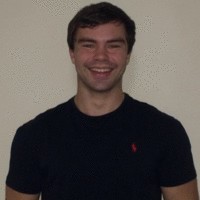 Matt Chmelewski
BS Statistics – University of North Carolina – Wilmington
BA Mathematics – University of North Carolina – Wilmington
Matt is a graduate of UNCW with a double major: a B.S. in Statistics and a B.A. in Mathematics. He worked in UNCW's mathematics building with professors involved in data science, where he studied the intricacies of big data techniques and the methods of making optimal systems to understand large amounts of data. His senior project involved error models and gradient descent, the method that computers use to actually teach themselves in machine learning. He will be attending graduate school at UNCW in the fall for his Masters in Data Science, with a focus on big data analytics. Matt never considered himself a "math kid" in high school, but grew to understand that math is not only easier to understand, but is fascinating to learn when it is taught properly. He originally planned to go into actuarial science after college, the science of mathematically quantifying risk for businesses and insurance companies. Because of this, he joined a business strategy organization at UNCW, Pi Sigma Epsilon, where he became the Vice President of Professional Development. He was in charge of leading workshops and bringing business professionals in to speak to his chapter for three semesters, and he pioneered new transition and budgeting strategies for his chapter's philanthropy event, Dance Marathon for Children's Miracle Hospitals.
During his undergraduate career at UNCW, he regularly coached his peers through higher math courses, such as calculus and differential equations. Matt enjoyed this process not only because of the opportunity to help his friends, but also to solidify his own knowledge of the content. Because of this, Matt had a regular group of fellow classmates that he worked with for his final three semesters at UNCW.
Matt has always enjoyed helping people who seek it, and he loves that he can help students understand mathematical concepts at Peak Learning.