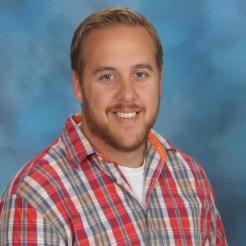 Danny O'Dell
BS in Secondary Life and Earth Science education - Bowling Green State
University
MA in School Administration - Eastern Carolina University
Danny is originally from Akron, Ohio, but he has been enjoying living by the beach since 2010. He graduated from Bowling Green State University with a BS in Secondary Life and Earth Science education and while at BGSU worked as a peer to peer biology tutor for two years
before graduating. For the last 9 years, Danny has been teaching the Standard, Honors, and Advanced Placement Biology classes at the high school level in the Onslow County school system. During his tenure in Onslow county, Danny has also spent time enhancing his student's athletic abilities by coaching wrestling, tennis, and track.
Danny holds a Master's degree in School Administration from Eastern Carolina University and has a passion for teaching and loves helping his students reach their academic goals. In addition to his love for teaching, Danny also has a passion for traveling the world during the
summers. His favorite country traveled to thus far has been Ecuador, but he loves learning the cultures and traditions of each new country he visits.